The SZZT EPP ZT596F is the top-of-line encrypting PIN pad, offering manufacturers and integrators one of the most secure 3DES-compliant input devices available on the market. Optimized for usage in self-service kiosk, ATM, and self-payment gas pump. The ruggedized design of the EPP 596F are built to withstand the most severe fraudulent attacks while complying with payment security standards on the back end.
ZT596F features with Braille equipped, supports Remote Key Loading from SZZT, giving customers an open-standard, flexible on-line key loading solution that is more secure and cost-effective than traditional dual-control split knowledge key installation and maintenance.
For financial equipment such as ATM, CDM, CRS, recharge and bill payment devices; as well as self-service application such as info-kiosks, vending machines, lottery machines, gas stations, etc.
EPP was successfully used on replacement of EPP V6 for Wincor Nixdorf C4060/ProCash 280/ProCash 8000/ ProCash 8100/ ProCash 8150.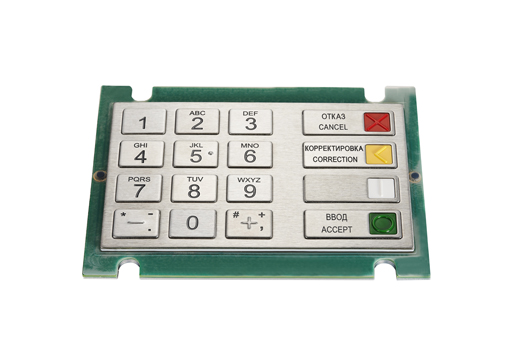 Encrypted PIN Pad - ZT596F
Dimension: 176*132.4*30mm
Panel dimension: 160*102.4mm
Weight: 900g
Compliance: PCI 3.x approval
Approval NO. 4-10091
Applications:
ATM, ADM, CDM, CRS PIN input
Gas Station & petrol self-service
Self-service ticking kiosk
Self-payment kiosk solutions
Companies looking for to make upgrades to comply with Tripe DES standard
Features:
Stainless steel keys in a polymer keyboard frame
Ability to customize layout
Raised keys with optional embossing
3DES and RSA (2048)
Watertight when properly installed (IP65 front of keyboard)
Connectors for function keys
USB 2.0 AND RS-232 interfaces
512 KB Program
512 KB Data (key) storage
-25℃+60℃ temperature range
Vandal resistance: IK08
Three million-cycle keyboard lifetime
Benefits:
Provides ATM with advances security features to keep up with changing and regulations
Attempts fraudulent attacks results in the destruction of secure data
Easy connectivity to various terminals through USB and RS-232 ports
Ruggedized design can withstand both indoor and outdoor applications
Able to withstand external force, liquid penetration and intense heat
Operates on standard software that supports common encryption algorithms
Access to top EPP security experts in industry through SZZT support.
Certifications:
PCI 4.x/3.x/2.x approved
Triple DES compliant
CE approved
RoHS compliant